Prayer Requests
It is not always easy to pray when we are sad, worried, or sick, so please allow us to pray for you.
Submit your confidential prayer below.
West End Baptist Church History


In the spring of 1941, in a home located at 430 South 19th Street, Mrs. Mollie Dartee Graves. Started a Sunday School in her home. As the Sunday school grew Mother Graves located a building at 426 S. 20th street. Mrs. Graves offered a simple prayer to our Father in heaven to send workers into the vineyard. This humble prayer set into motion a series of events that brought forth the West End Baptist Church from its obscure beginnings in West Louisville. Rev. Cunningham, pastor of New Zion Baptist church took on the fellowship as a mission of New Zion. West End Baptist Church was started by a group of faithful, committed Christians, ten from First Samuel Baptist Church. In the hearts and prayers of a group of ten dedicated Christians concerned about the growth of their church with Sunday school, bible studies and prayer meetings, a Bible-Believing, Bible-Preaching church was born.
Their first priority was to find a pastor. Rev. James H. Chalmers, formerly an associate minister of New Zion Baptist Church, was chosen as the first pastor. The group decided at the new location there was greater opportunity for service and fellowship as well as a commitment to upholding the fundamentals of the Christian faith. Their purpose was to honor and exalt God and be a service to the people of their community.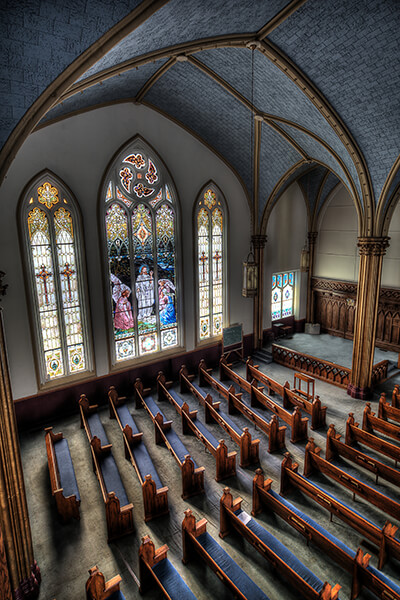 The church grew and thrived under Rev. Chalmers' leadership. It had increased its membership from the original ten to forty members. West End Baptist Church boasted of several committed deacons, Brothers Dillard, Charlie Shoulders, Carl Turner, John Williamson, James Watson, Edison Davis, and later George Buchanan. The committed members loved their church and worked unceasingly for it. They were able to raise enough revenue from "selling dinners" and homemade ice cream to last throughout the winter.
Because of no baptismal pool the church used the pool at Bethel Baptist church at 13th & Liberty streets. But as he aged and in the intervening time of his resignation and the calling of the next pastor, the membership dwindled down to eleven members.
In 1961, it was evident that a pastor was needed who could devote his attention to the church. A call was prayerfully extended and after a relatively short search, Rev. Lincoln N. Bingham answered that call and became the pastor of West End Baptist Church. He was a great man of faith, strong convictions and indomitable courage. Upon his arrival, West End Baptist Church had the same number of members it had when it first started out with twenty years earlier and had only one deacon, George Buchanan, who was employed and had the only automobile. Deacon Buchanan continued the prayer of asking God to "send more workers" and that prayer is still being answered today. Rev. Bingham admonished the church to have faith as the church sought to do God's will. There was a new movement of the Spirit among the congregation, a spirit of power, love and a sound mind. The church began to grow under his inspired leadership, which was evident in 1963, during the first revival where fifty souls were added to the church. Twenty-three of those were first time decisions. The Sunday school, the oldest auxiliary in the church continued to flourish.
It was apparent to the membership that a larger building was needed. So plans were made that would involve moving to another location to allow the ministry to continue to grow. On October 1, 1968, there was a grand motorcade that highlighted the occasion from the old location to the property that was secured at 2820 West Jefferson Street. Baptisms of the new souls that were continued to be added were done at the church-around-the-corner, Baptist Tabernacle Baptist Church. Members remained faithful even when things were difficult. God used these faithful members to maintain the work that He had assigned to them.
1976, because of the organization of our Christian Education program, West End Baptist Church purchased the property adjacent to it. We found that it too exceeded the ability to adequately serve our needs because of our growth. In 1979, the old educational building was demolished and the sanctuary was remodeled. With continued emphasis on Christian education and rapid growth, in 1980 the foundation for a comprehensive educational wing and a large fellowship hall with a kitchen and ample office and classroom space was laid.
In 1983, Rev. Dartanya G. Hill, Sr., joined West End Baptist Church. He quickly became involved in the work of the church and taught New Members class, Sunday school and was the Adult Sunday School Director. Pastor Bingham asked Rev. Hill to accept the position of associate pastor in 1986. In the summer of 1988, on the recommendation of Pastor Emeritus Bingham, Rev. Hill was called as Interim Pastor of West End Baptist Church. Nine months later in 1988, Rev. Dartanya Hill became the church's third pastor. Pastor Hill believes in a holistic approach to ministry. That is to say that the church must meet the total needs of the individual and not merely spiritual. In this view, many creative ministries have been established under his dynamic and energetic leadership.
In July 1989, the new educational facility was erected. However, in December 1989, tragedy struck when a fire was set and destroyed the fellowship hall, educational building and offices. It delivered a major blow. Yet, West End Baptist Church stood as a testimony of God and the commitment of its people. For it was the people, not the building, that made the church.
On December 22, 1991, the Sunday before Christmas, the membership moved from 2820 West Jefferson to a Historic Church building at 1400 S. 4th Street. Upon arrival at our new location we were met with new opportunities for ministry and bold challenges to our own faith. From observations of the fact that many persons found refuge in the nearby park and even on the Church porch, we were faced with the fact that we preach that God loves all people. Out of that need was born the "Homeless Breakfast". Once a week, persons are given a hot meal, inside from the elements and challenged to get to know Christ by way of Conversation, Music, Biblical Tracks, Worship and The Word. Understanding our need to talk to God and He with us, was developed Wednesday Mid-Day Prayer Time. Christian Counseling for the Community (by appointment), Nursing Home, Jail / Prison Ministry, Boy Scouts, Young Adult Ministry, Porch Talk and Prayer Walks, Men and Women Prayer Breakfast, Family, Friends, Fellowship, Fun, Senior Fellowships, Harvest Fest, Rap the Spoken Word, Creative Ministries and more are all efforts in addition to our basic ministries that continue to build on the foundation laid in 1941.
In 2010, the church began an aggressive campaign of missions and evangelism and renovations of the building that will allow for future growth. And the Church did move to perform $150,000.00 in very significant renovations that prepare the building for years of Ministry in this location. We have witnessed the growth of several bible teachers that help to stabilize and ensure the growth of the ministry for the future. The active enrollment of the church is twice greater than it has ever been and the Church functions with an experienced and diversified staff. Souls continue to be saved and the saved continue to be edified.
West End Baptist Church continues in The Faith to build on the foundation of Jesus Christ that The Lost will be Saved, The Saved will be Taught, and the Taught will be Trained to share the truth of the Gospel to all people.
As Mollie Graves, the founding mother of the Sunday School always said, "West End is built on a rock, a strong foundation and that foundation is Jesus."
Find Your Spiritual Home at the West End Baptist Church

Make an Online Donation to West End Baptist Church

---
Donate via Text from Your Mobile Phone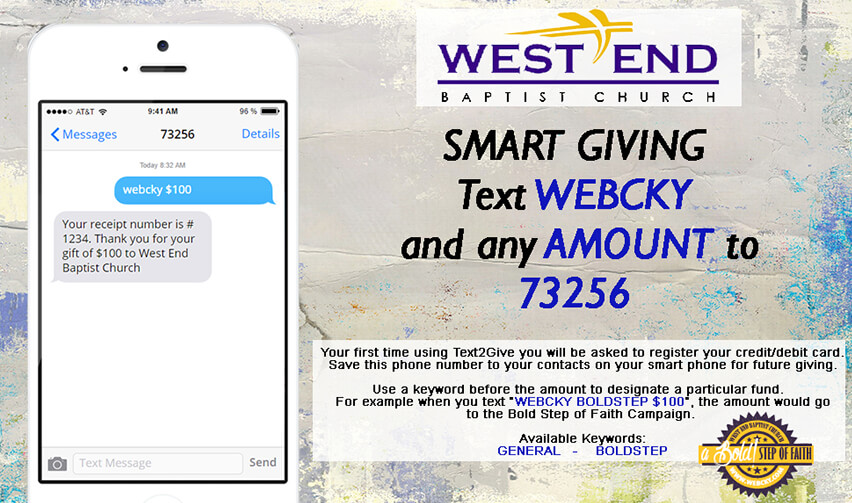 Text "WEBCKY BOLDSTEP" to 73256 to give using your mobile device.
This number will never send unsolicited texts to you. To cancel further messages, text STOP. If you need assistance with text giving, text HELP. Standard text message and data rates may apply.
---
Bold Step of Faith Campaign of Capital Stewardship and Witnessing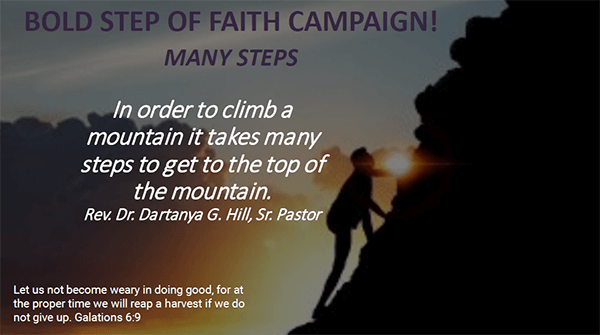 The "Bold Step Of Faith Campaign of Capital Stewardship and Witnessing" officially kicked-off in January 2015, with an initial push to encourage the West End Baptist Church members to commit to giving an amount above their Tithes, those who were not giving or not tithing were encouraged to begin or increase their giving to the point of Tithing. Due to the acceleration of payments by one of our two mortgagors, our Pastor proposed that we pay off our mortgages within five to nine years, rather than 15 to 30 years. The Bold Step of Faith Campaign's goal is to help with early payoff of our mortgages and then to build a Family Life Center: A facility designed to meet the needs of the entire family (from children to the elderly): a gymnasium style ministry facility with convertible space to accommodate education, recreation, large events and child care.

We have already begun increasing our emphasis on witnessing and ministry and will continue to do so. We are going to boldly move forward in fulfilling our church Mission and Vision, and Jesus' Great Commission. Using a Step by Step approach, we are working on Step 1 – Early mortgage payoff within seven years or less. Then we will focus on Step 2 - Building our Family Life Center.
Please feel free to give freely if you are interested in taking part in the Bold Step of Faith program.

---
Memorial Tree Donations
West End Baptist Church is excited to offer you the opportunity to purchase a golden leaf on our beautiful Memorial Tree located in our foyer to honor and memorialize your loved ones and friends who have passed. This golden leaf will exhibit your loved ones' name and other pertinent information in loving memory of them.
These leaves are available at a one-time purchase price of $110.00 which includes the engraving fee and the proceeds will go toward the liquidating of our Church Mortgage. We offer an installment plan for those who would like to pay off their leaf over time. Once your purchase is complete then your leaf will be displayed on our beautiful Memorial Tree for everyone to see.
The Memorial Tree has made a great impact on our church members and friends who have stated that being able to purchase a leaf is a great way to honor and memorialize their loved ones and friends who have passed on to be with the Lord.
One example is Eddie Graves, who resides in Palm Coast, Florida and is the grandson of the Founder of West End Baptist Church, Mollie Graves. He has stated that this has been such a great blessing to be able to honor his grandparents by purchasing a leaf for the each of them and having it displayed on the Memorial Tree.
We are extending this opportunity to everyone who wishes to participate, whether your loved ones or friends have been a member of West End Baptist Church or not. It is open to all.
If you have any questions or concerns, please contact the church office.
We offer two ways in which to make your Memorial Tree Donation
Please click on the button below to place your order or use your mobile phone and Text to Give.

The purchase of your leaf is tax deductible, keep a copy of your order for your records.
---

Use Text to Give to Make a Memorial Tree Donation
Text To Give Instructions
Text: 73256, Type In Memorial Tree, Webcky Memorial Tree $$$
You Will Receive A Confirmation Message
Click The Link In The Confirmation Message To Access The Payment Form
Complete The Payment Form And Verify The Amount And Fund
When Finished, Click Give
You Will Receive A Receipt By Text And Email
Your Payment Information Will Be Saved For Future Gifts!
The purchase of your leaf is tax deductible, keep a copy of your order for your records.
---
Basement Renovation Project
We are appealing for generous support for the renovation and expansion of our basement area that serves meals to our local homeless population. The current space is too small. The stoves that are used are worn out. The kitchen is small for the workers needed to prepare for an average of 150 persons. The storage is inconveniently located from the preparation area making serving this number of persons very difficult.
Click here for more information on this project

Wedding Ceremonies & Facility Usage
Wedding Information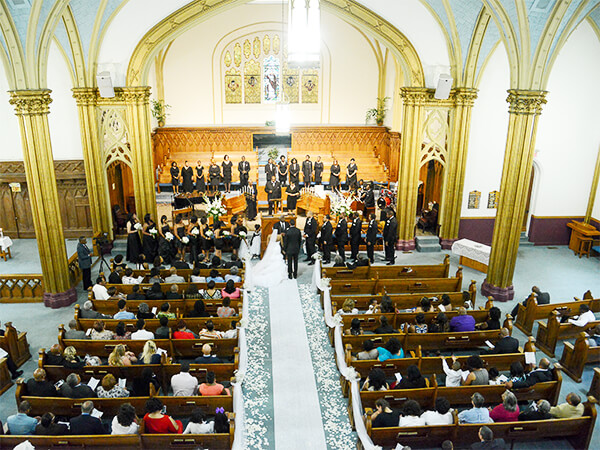 Let us be among the first to say congratulations as you as you plan for your upcoming wedding. We are excited that you have considered our church as the venue for your wedding. In addition, we would love for you to establish and grow your family here for years to come.
Facility Usage
We have a beautiful, an historic Sanctuary that will comfortably seat 500+ guests, family and friends to witness your special day.
Wedding Event Usage Agreement
Additional Services Available
(Negotiated Separately from Facility)
Minister
Musicians
Soloists
Celebrate your Special Day at the West End Baptist Church